'London's team' are finally threatening to become an NFL force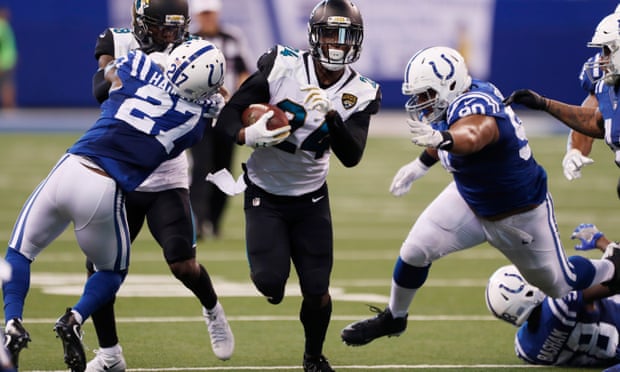 If the Jacksonville Jaguars are indeed London's NFL franchise then how strange is it for the capital to possibly have an NFL playoff team?
After years of failed attempts to win more than five games in a season, the Jags – long tipped for a move from Florida to the UK – sit at 4-3, tied for first place in the AFC South and are a legitimate threat to be playing in the post-season. And who would have figured this?
At the end of last year, it seemed Blake Bortles was the latest of young Jaguar quarterback blunders, throwing for a lot of yards but also a lot of interceptions. Jacksonville had no discernible running game and a solid defense wasn't enough to promise they could haul themselves to respectability.
Something strange has happened to the same old Jaguars since. They got good. The season is almost half-over and Jacksonville lead the NFL in sacks, interceptions and point differential. Yes, they were the lucky beneficiaries of Houston quarterback Tom Savage's regrettable season debut – one that lasted a half. And, yes, they picked up 10 sacks that day because Houston's starting left tackle, Duane Brown, was holding out. Still, the Jags never used to dominate teams no matter how broken those clubs might be.
On Sunday, they trampled the woeful Colts 27-0 in Indianapolis, but the score, as one-sided as it was, said little about how complete this domination was. The Jags outgained Indianapolis 518-232 as Bortles, the quarterback who appeared close to through in Jacksonville, threw for 330 yards and a touchdown.
That the Jags won so decisively a week after a loss to the Rams is also a tremendous sign. An even better sign is that the players almost expected to win. And that is definitely different about this team.
"The beauty of it is it's still October and we're in control of our identity," defensive end Calais Campbell told reporters last week. "That's all you can really ask for. Nobody is 6-0 and we're in a tie for first place. We're in a good place. We just have to bounce back [from the Rams loss]. One thing we've shown is we can bounce back and we are very resilient."
Advertisement
There are plenty of reasons for Jacksonville's resurgence. Rookie running back Leonard Fournette, who missed Sunday's game, has given the Jags a more balanced, more potent offense. Bortles, who is amazingly just 25, has been efficient, growing into the role of a game manager. The defense is healthy and aggressive – and still young. But the biggest change may be the return of the franchise's best coach, Tom Coughlin, who is the Jags' executive vice-president, and the fact head coach Doug Marrone has a full year in charge of the team. Marrone, who filled in at the end of last season when Gus Bradley was fired, has always been underrated as an offensive mind. Suddenly, the Jags are something of a threat.
In the past, the schedule never favored Jacksonville much. The Jags often found themselves staring at second halves filled with winning teams, but in the season's final 10 games they play the Bengals, Browns, Cardinals, Colts and 49ers. All teams with losing records. The playoffs aren't guaranteed but for a team that has already won games by scores of 29-7, 44-7, 30-9 and now 27-0 Jacksonville's playoff chances are as good as they have been for a long, long time.
London's de facto, NFL team in the postseason. Who would have guessed?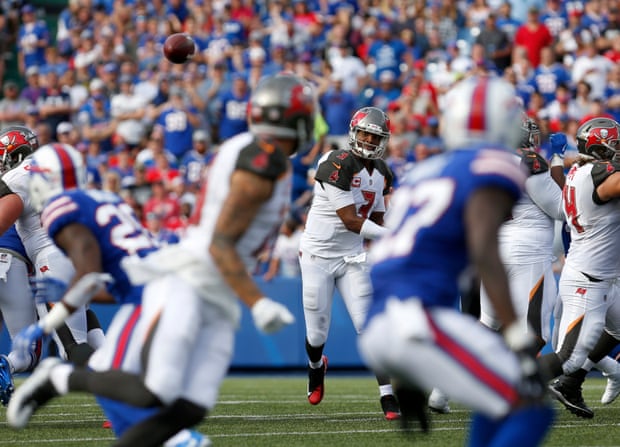 Jameis Winston. Not often is a player on a losing team the offensive star of a week, but the Buccaneers quarterback was fantastic in Buffalo on Sunday. Just a week after a shoulder injury knocked him from the game (and made his appearance in this week's game a legitimate question) Winston threw for 384 yards and one touchdown. He is starting to come into his own as a passer.
The Bucs were in good position to win this game but the Bills scored 10 points late in the game – a winning field goal set up by an Adam Humphries fumble. Instead of leaving town at 3-3 in a muddled NFC South, Tampa Bay fall to 2-4. The Bucs are still in position to make a good second-half run and Winston may finally be dependable enough to get them there.
Quote of the week
Advertisement
"There is no question the league is suffering negative effects from these protests" – Cowboys owner Jerry Jones continues to talk about the anthem protests from several of the league's players. Two weeks after saying any of his players who "disrespect the flag" would be benched, Jones continues to worry about the fallout from having players kneeling or holding up a fist during the anthem in support of Colin Kaepernick's plea for a national conversation about racial equality.
On Sunday, in the stadium where Kaepernick starred for the San Francisco 49ers, Jones's Cowboys rolled over the 49ers 40-10 with quarterback Dak Prescott throwing for three touchdowns and running back Ezekiel Elliott running for 147 yards and two touchdowns.
Stat of the week
10,363. That's the number of consecutive snaps Browns tackle Joe Thomas had taken until he left Sunday's game with a triceps injury. It's impossible to imagine, really, the number of times game-after-game that Thomas jumped from a crouch and smashed himself into an opposing defender. Never did he quit. Never did he throw up his hand and walk to the sideline. Never did he say he was tired and needed a break.
Perhaps most amazing was that he did this for a dreadful team that has wallowed near the bottom of the NFL for his entire career. It's hard enough to play every play for more than a decade when you are winning. Imagine doing it when you are losing. A lot. Fittingly, the Browns lost on the day Thomas's streak ended – 12-9 in overtime to Tennessee.
Stat of the week II
Seven. As in the number of passes attempted by Chicago's rookie quarterback Mitch Trubisky. Yes, seven. The Bears are not comfortable letting Trubisky loose just yet. In fact, his attempts have dropped considerably with each week he has been starting, going from 25 in his debut to 16 last week to just seven on Sunday. He did the most with the seven he had, however, completing four for 107 yards and finished the day with a quarterback rating of 101.8 (which goes to show how useless quarterback ratings are).
Bears coach John Fox has always been uniquely creative for a man in his position. While many coaches fear tearing apart their offenses, Fox has done so in the past with great success. Remember when he did in Denver back in 2011 with Tim Tebow? Most importantly, his plan worked on Sunday. Trubisky barely threw but the Bears beat Carolina 17-3 in one of Cam Newton's worst games (0 touchdowns, two interceptions).
Not only have the Jets surprised the NFL this year by not being the worst team in the league but their receivers should get points for imagination. Here's Robby Anderson catching a touchdown pass and then doing the Lambeau Leap one better by hopping into the stands and reclining in what appears to be a very comfortable field-side seat. Of course why that seat is empty is another story.
Unfortunately for the Jets, Miami got the last laugh when Matt Moore took over for an injured Jay Cutler and lead the Dolphins to a late 31-28 victory. Unfortunately for Anderson, he ripped off his helmet in frustration just before game's end – a costly penalty that made a longshot, last chance even more of a longshot.
Elsewhere around the league
Advertisement
--The Super Bowl rematch wasn't quite as dramatic as last February's game. The New England Patriots didn't need to mount a comeback against the Atlanta Falcons this time: they didn't trail the entire game and ran out easy winners. The Falcons' offense, so devastating last season, is starting to come a concern. Tom Brady, meanwhile, is still sickeningly good in his fifth decade – it was another two touchdown game for the ageless one.
--After knocking Packers quarterback Aaron Rodgers out for the season, Minnesota can probably skate to the playoffs. On Sunday, the Vikings rode their defense and running back Latavius Murray to a 24-16 victory over disappointing Baltimore.
--Brett Hundley has not proven to be a great replacement for Rodgers, throwing for just 87 yards in Green Bay's 26-17 loss to the Saints.
--Todd Gurley had 106 yards rushing for the surprising 5-2 Rams along with one touchdown in a 33-0 trampling of Arizona at Twickenham Stadium. Cardinals quarterback Carson Palmer broke his left arm and was knocked from the game.
--Pittsburgh continue to roll back after a slow start this season with a 29-14 win over Cincinnati behind two passing touchdowns by Ben Roethlisberger and 202 total yards from running back Le'Veon Bell.
source : https://www.theguardian.com/